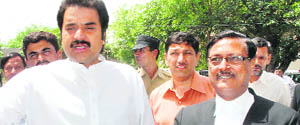 Chandigarh, April 20: Ruing the "deliberate delay" in deciding the fate of five HJC-turned-Congress MLAs, HJC chief Kuldeep Bishnoi and his lawyer
Satya Pal Jain
today said they had decided to move the High Court.
Bishnoi was in city for a file inspection of the case.He has filed petitions before Vidhan Sabha Speaker Harmohinder Singh Chatha against "his MLAs" for defecting from the party without following proper procedure and has sought their disqualification.
"We will move the High Court for directions to the Speaker to inform us of the proceedings in the case," Jain told mediapersons after the file inspection.
Jain said Bishnoi filed his petitions on December 9 last. "The Speaker sent the first notice to the MLAs on December 14 which came back twice before the MLAs accepted them. ...
... After going through the file, we feel that delaying tactics are being adopted . We have no option but to move the court," Jain maintained. Bishnoi and Jain said there had been instances when cases of disqualification were decided in days . "It's been over four months and nothing seems to be moving so far. If the Congress is sure that it hasn't done anything unconstitutional, why the delay in the proceedings," asked Bishnoi.