The Tribune
Shimla, July 24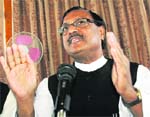 :
Convener of the National Legal Cell of the BJP
Satya Pal Jain
accused the UPA regime of politicising the CBI against its political opponents, a negative trend which will prove harmful in the long run.
Addressing a press conference here today while relinquishing the responsibility of in charge of the BJP affairs in Himachal, Jain said the Congress had set a wrong precedent by using the CBI for its political motives as everyone would have to suffer on this account. "Law should take its own course and there should be no political interference in the functioning of independent agencies like the CBI, which is in national interest," he remarked.
... Jain said his party would try to resolve important issues by filing PIL in non-BJP ruled states by reaching out to legal forums right up to the block level."Though I have yet to take charge as convener of the National Legal Cell of the party, we are keen to set up BJP legal cells right up to block level in income tax, sales tax, district courts or any other such institution," he said.
He said he would travel all over the country after assuming office so that link could be established with lawyers and retired judiciary officers to involve them in public issues. "Where the BJP is in power we will try to look for solutions by making representations and in non-BJP ruled states we will file PILs to seek reprieve," he said.
Jain said his tenure as party in charge was very satisfying as everyone worked unitedly in the interest of the party. "In case the BJP works unitedly the way it did in the past three years, there is no reason why it cannot ensure the defeat of the Congress again," he said.