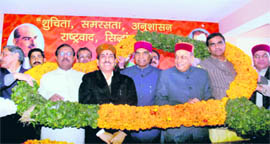 Shimla, February 3: ...Both Dhumal and Khimi Ram said efforts would be made for better coordination between the government and the party so that the BJP was strengthened in the state.
...former Chief Minister Shanta Kumar was elected to the national council along with Chief Minister PK Dhumal, Dile Ram from Mandi and Vimla Kashyap from Shimla in his absence.
"After seeking Shantaji's consent over the telephone, his name was proposed by IPH Minister Ravinder Ravi and seconded by former minister from Kangra Chaudhary Vidyasagar for being elected to the national council," said Satya Pal Jain, in charge of BJP affairs in Himachal when asked who filed the nomination form for Shanta Kumar.